Exhibit Programme and Opening Times
ArtSci Nexus
ArtSci Nexus is an international, open platform centered around collaborative aesthetics between the arts and sciences. The mission of the Nexus is to facilitate the creation of in-lab artist residencies in university settings in order to generate long-term partnerships across disciplines. Once established, the teams work with scientific themes, data sets, and tools and techniques to constructively critique the scientific process, visualize research, and work towards contributing to new methodologies and approaches.
Four active Nexus teams will be presented in this exhibit: Arrhythmia, Neural Module, Bacteriality, and the Well-Tempered Brain, alongside guest project Dolphinet, guest sound artist Miriam Akkermann from the German Young Academy (Die Junge Akademie), and a children's book publication by Dmitry Alexeev.
These teams first met at the inaugural ArtSci Nexus Think Tank in Leipzig, Germany in April 2016 and have been collaborating ever since. They have exhibited in Lisbon, Stockholm, New York City, and Hamburg, and have participated in summer education programs in Barcelona.
Read more about the ArtSci Nexus here.
GYA Science & Art = Peace and Justice Working Group
The GYA working group Science & Art = Peace and Justice was launched in 2016 and had a strong connection with ArtSci Nexus platform from the very beginning. During the first seminar, organized in Edinburgh in August 2016, a team of scientists from the Global Young Academy with expertise in cell biology, bioinformatics, neurobiology, microelectronics, computer science, partnered with ArtSci Nexus artists to discuss the problems related to the sonification of biological data. Scientific as well as the aesthetic questions were raised. Following this initial contact, the aims and objectives of the working group were formulated to include the idea of promoting an active engagement of scientists in the arts and set up mutually beneficial creative collaborations with artists to develop new techniques and expand old disciplinary boundaries.
Cooperation with the Kulturstiftung Sachsen-Anhalt and the Moritzburg Art Museum Halle (Saale)
The GYA Art-Science exhibit takes place in cooperation with the Kulturstiftung Sachsen-Anhalt in the Art Museum Moritzburg Halle (Saale). At the same time, the Art Museum hosts the special exhibition "The silence in the noise of the time. Marc, Macke, Nolde. Masterpieces from the Ziegler Collection". More information on this exhibit and a tour for GYA members can be found here.
The Teams
Arrhythmia
Arrhythmia is a collaboration between Peter Bosch & Simone Simons and Sergey Kostyrko. In this installation they transform video images into sound. These images were created via laser scanning confocal microscopy of a live isolated rat heart in scientific experiments by Dr. Danyla Bobkov and his colleagues from the Institute of Cytology located in St. Petersburg, Russia. The main focus of the research was on the arrhythmic behavior of a rat heart and the central question they were investigating pertained to why the arrhythmia arises and how it's possible to avoid it. Read more about Arrhythmia here.
Neural Module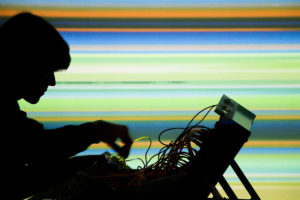 Neural Module is an audio-visual performance by Sergey Kostyrko. The signals of 64 nanoelectrodes, which were covered by the layer of striatal and cerebral cortex cells, were recorded in the laboratory of Dr. Paul Roach from Loughborough University (UK) as a data array for further structuring and study. Using different software and hardware solutions, data is converted into electrical signals controlled by oscillators, filters, envelope generators and other modules of a Eurorack system. During the performance, the modules are combined into various functional blocks, which allow for a wide range of sound and video synthesis techniques. As a result, the electric signals from nerve cells are organized into complex audio-visual patterns.
The Well Tempered Brain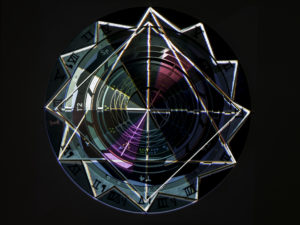 The Well Tempered Brain, also called "nanobrain" is cultured "in vitro" in the laboratory and well tempered by algorithms that sonify it´s living neurons into polyphonic music.
Visual artist and musician Mark Matthes explores the linkage between neuroscience, art and music in a cross-disciplinary collaboration with programmer Anton Koch (Motion Lab, Frankfurt) and bioengineer Dr. Paul Roach (Loughborough / Keele University UK) and performed together with Sasha Kagansky and Sergey Kostyrko. Read more about The Well Tempered Brain here.
Bacteriality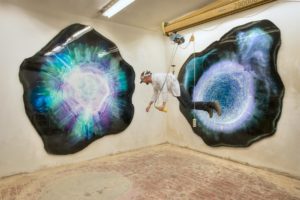 Bacteriality, by Wolfgang Ganter, is comprised of two series, titled, "Micropaintings" and "Works-in-Progress", realized in collaboration with biochemists Dr. Ana Domingos, Dr. John LaCava, physicist Prof. Dr. Ben Eshel Jacob, biologists Prof. Dr. Klaus Hausmann and Dr. Diego Serra. The process involved in creating "Micropaintings" consists of instigating chemical reactions on glass plates (measuring maximum 5 x 5 cm), while instantaneously digitally documenting these reactions under a microscope in real time. Read more about Bacteriality here.
Dolphinet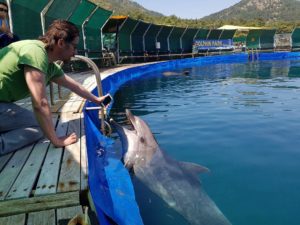 Dolphinet is a project initiated by Nicola Swietkowiak and Sasha Kagansky that takes place in several locations at the same time, Berlin (Germany) , Hawaii (USA), and Vladivostok (Russia). Joined by one of the pioneer researchers of the Marine mammals communication, Michael Hyson, Greenpeace co-founding member Michael Bailey, among others, an audio communication and web portal has been collaboratively designed, which should allow dolphins and whales to send and receive audio messages, in real-time, across participating venues and selected wildlife locations around the world. Read more about Dolphinet here.
Tim's Adventures in the World of Bacteria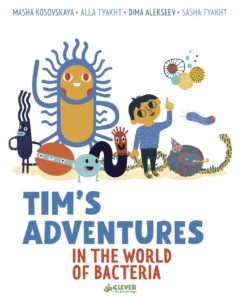 The children's book series "Tim's Adventures in the World of Bacteria" was inspired by the keen interest of the sons and daughters, and nieces and nephews of the authors themselves. The inquisitive spark that the children in their own lives exhibited, led them to the idea of publishing a series about their own research, the bacterial kingdom. Much to their surprise, they found that the project was not only supported by publishing house, but in fact it follows a driving trend in the genre of children's non-fiction. The book's artwork is in keeping with the spirit of adventure and the magic of a fairy tales, but with a strong basis in scientific fact, making the series exciting for both children and adults . The book itself has become a point of scholastic discussion at the dinner table, encouraging children to ask for microscopes for Christmas, and putting them on the path to future careers in the sciences.