Namasté to all of you, who are following our News Ticker special branch for India.
India is not only the home to the probably most famous building in the world– the Taj Mahal – but also a unique combination of hustle, noise, bright colors, the most delicious dishes and kindhearted people, as you will learn. To make the best of your experience, we put together helpful information for your free time. In case you have already decided (or spontaneously decide to) extend your stay, we have also collected some additional information we will provide in the "India Special" articles such as this one.
Source featured image: Foto von Artem Beliaikin von Pexels
More about Kolkata
Kolkata used to be the capital of India during the colonialization by the British. Due to a strategic decision, this changed in 1911 and New Delhi took the post. Nevertheless, Kolkata remains the artistic and cultural capital of India until today. This affiliation comes from the fact that Kolkata along with the whole area of Bengal was the birthplace of modern Indian literary, artistic and scholastic thought. Its important role during the rule of the British Empire is still evident in the impressive colonial buildings throughout the city.
One of Kolkata's many sights is the 705 meter-long Howrah Bridge. The steely construction leads over the Hugli River, which is a branch of the holy Ganges. Standing on the bridge, you can see the bustling Mullick Ghat Flower Market on the one side. It is one of the biggest of its kind and offers a jaw-dropping sensory experience of bright colors, intense fragrances and a bulk of people bargaining and picking out flowers. On the other side of the bridge, you can see the different ways in which the river is used by the citizens, such as washing clothes or even themselves. In case you plan to spend a little more time in Kolkata: There are also boat tours available, which will offer even greater views!
All the things that make India so charming: Colours, colours, colours. India's dress code.
When choosing what to wear in India, it is a good consider India's cultural customs. First, Indians know how to dress for their climate. Despite the heat that awaits you in India, you will want to consider alternatives to shorts, tank or crop tops and the like. We recommend picking a wardrobe that will cover your shoulders and knees. Women in India wear beautiful gowns in all kinds of colours, so do not shy away from vibrant colours and prints. Another option for easily dressing up business casual is to incorporate harem pants. Men should bring lightweight pants and breathable button-down shirts. Kurtas are an option available to men and women, usually making for a rather comfortable style of clothing.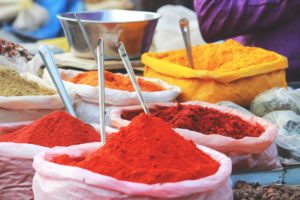 Colour might just be the very soul of India. It is something done quite effortlessly and without giving it much thought. The brighter, the better. Where the West picks navy blue as a 'safe bet' some blogs you come across will boldly state that pink might just be the navy blue of India. Of course, as every year, the AGM calls for business casual attire, but maybe you want to consider bringing that red blouse or shirt, instead of the beige or white. Or how about that turquoise dress or pair of pants?
A last suggestion, especially for women, is to bring a long, airy (and possibly colourful) scarf or Pashmina. While inside the air-conditioned venues at the AGM it will be perfect to keep out the chill when coming out of the heat - and if and when you consider visiting a temple, it will allow you to easily just wrap it around your head for respectful attire at a holy place.