2024 Annual General Meeting and International Conference of Young Scientists
7-10 May 2024 in Washington, D.C., USA
"Transformative and Inclusive Science for a Sustainable Future"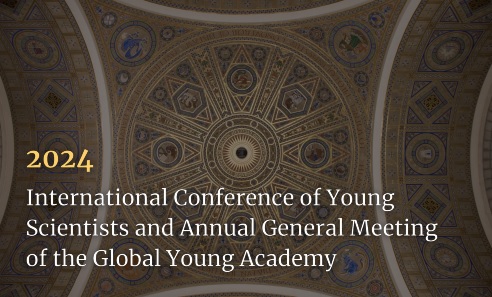 The 2024 GYA AGM and Conference will take place at the U.S. National Academies of Science, Engineering, and Medicine (NASEM), supported by a Local Organising Committee comprising GYA members in the USA, members of the National Academies' New Voices in Science, Engineering, and Medicine program, and supporting NASEM staff.
The conference topic – "Transformative and Inclusive Science for a Sustainable Future" – provides an opportunity to rethink how recent technological advances and current efforts toward diverse and inclusive science can create a sustainable future for all. Ensuring the prosperity and well-being of communities should be founded on transformative science and capable of addressing current and future complex
challenges societies face.
More information on the meeting, programme, etc. will be released in the coming months. Contact  with any questions.
Just like every year, this page will contain all information you need to plan for and attend the AGM and conference. 
Organisational Information
First and foremost, please look into your Visa to attend the AGM and conference at your earliest convenience. Find all information about it here:
Information about the conference venue as well as member and alumni accomodation is posted here:
Some of the GYA members are eligible for co-funding. Please find out whether you are one of them on this page:
View the latest version of the AGM and conference's programme here:
The AGM and conference is a joined effort so we would like to thank the organisers and our partners: